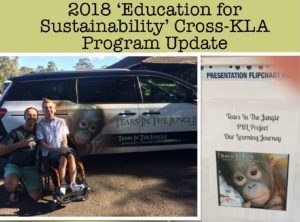 Tears in the Jungle – Efs Project Information
Penrith Lakes Environmental Education Centre has prepared a Teachers Pack that can be completed with a single class, or as a whole stage, over one term (approx 3-4 hrs p/wk).
 Click here to view Teachers Pack Contents
(Scroll to the bottom of the page and find under additional resources)
The Teachers Pack provides an integrated conceptual unit of work for Stage 2 addressing Geography, Science and Technology, English and Visual Arts outcomes. It includes syllabus links, lesson by lesson teaching sequences, suggested Project Based Learning (PBL) driving questions and supporting texts and resources.
Principal of Penrith Lakes EEC, Mr Branimir Lazendic, a passionate advocate for sustainability, is also more than happy to further support individual teachers or whole stage teams in their quest to help Daniel and William Clarke save the orangutans. "We started with 4 schools and 14 classes in Term 1 and by Term 3, we are now up to 8 schools and 36 classes and the interest from other schools is still growing fast. The educational and life skills value of this project for students has exceeded all my expectations and I'm thoroughly enjoying the journey with other teachers!"
Contract Branimir via email further details –  branimir.lazendic@det.nsw.edu.au