Kitchen Garden Program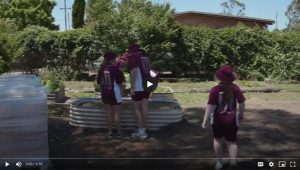 "Empowering for Life"
The WHAT:
Penrith Lakes Environmental Education Centre (PLEEC) has developed a Kitchen Gardens program where students are engaged in one-hour cooking and gardening lessons each week for up to four classes per day. The program is designed for students to achieve educational, wellbeing and sustainability outcomes through curriculum embedded, cross KLA lesson sequences. The PLEEC Kitchen Gardens program teaches a range of life skills, supports critical thinking, communication, problem solving and teamwork skills.
The WHY:
"All the research is pointing to two biggest factors that will determine how long you live and the quality of your life:
1. What you eat.
2. The quality of your relationships."
                                                                                                                                                                           Dr Michael Mosley, 2019
The HOW: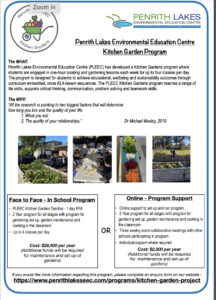 Click here for more information  – Teachers Information Pack
Would you like to discuss further?
Please give us a call on 4730 3630 or complete the below enquiry form: