Kitchen Garden Program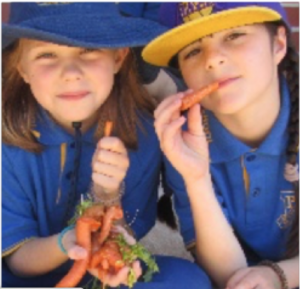 "Empowering for Life"
THE WHAT – To establish a curriculum integrated (Cross-KLA) 'Kitchen Garden' program (1-2hrs p/wk) to develop students educational and life skills, utilising PLEEC's ongoing 'face to face' staff support.Not an 'add on' but timetabled into the regular curriculum (1-2hr p/wk) with an alternating Kitchen & Garden lesson schedule all year. A TPL day per semester/project via MyPL to facilitate staff collaboration.
WOULD YOU LIKE TO – measurably increase student engagement and achievement of:
• Cross-KLA syllabus outcomes and sustainability (LAC);
(research shows stronger student engagement & learning through collaborative 'real world' cross-KLA pedagogy);
• General Capabilities, including Literacy & Numeracy, Personal & Social Responsibility, Critical & Creative Thinking;
• 'Wellbeing Framework', including achievement, meaningful goals and enjoyment of learning.
• Other targets, such Healthy Canteens, SEF and NESA APSFT, NSW Health.
• Greater community engagement & school attraction value.
THE HOW – Check out the links below to learn more and contact Bran at penritlake-e.school@det.nsw.edu.au to find out more!
Kitchen Garden Program Risk Assessment
Program Overview and Stage Program Examples